View Outlook appointments and attendance information at a glance for each organization or group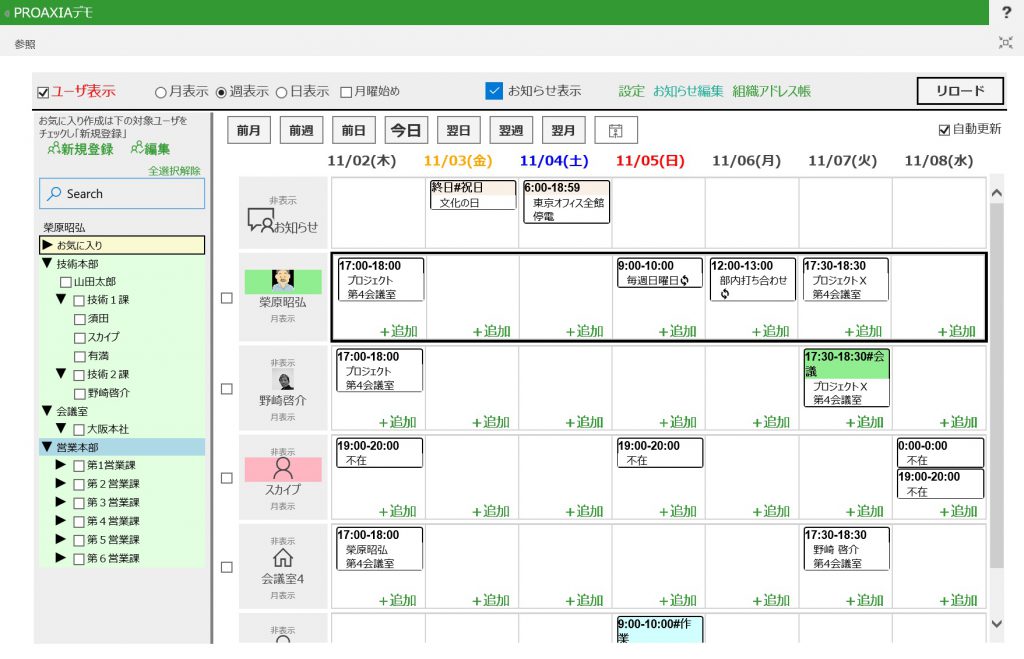 An organizational calendar that fully utilizes the features of Microsoft 365. It can be used as it is, or customized according to your needs.
It runs on SharePoint and accesses and displays the Microsoft 365 server directly from the browser, so it can be displayed quickly without any extra overhead.
※ Now we can only support Japanese edition.
Events List by Group
You can check the schedule in a list for each organization or group.
Organizations and groups can be defined in a CSV file and simply uploaded.
Of course, meeting rooms and facilities can also be displayed.
Display Organizational Structure in a Hierarchy
Organizations and groups can be defined in a hierarchical structure.
Hierarchical groups can be selected together, and attendees can be specified by group.
Meeting Rooms can be Specified for Each Office
When displaying a list of conference rooms, the conference rooms at the office to which the user belongs are priority displayed.
You can also search the available conference rooms in the office.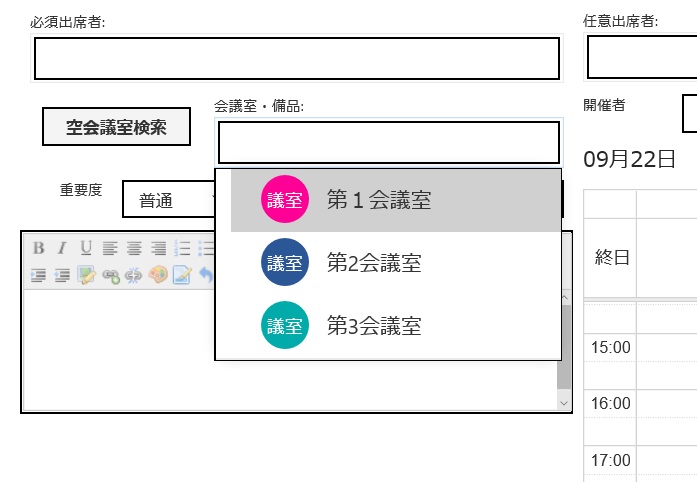 Various Appointments and Conference Rooms can be Registered
You can create a periodic schedule, such as every Wednesday.
You can also hold meetings that include multiple users and create appointments on your behalf. The title and time can be changed quickly.
You can specify the time while confirming whether the schedule of participating members is available.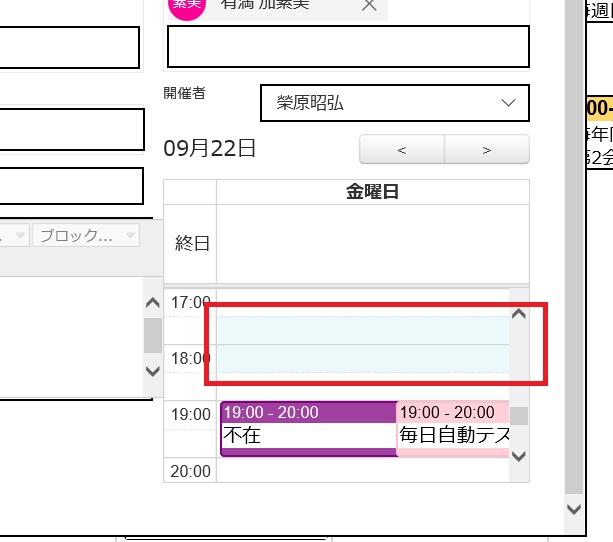 (Dragable frame can be selected by dragging the red frame)
Display Based on Security
The appointment will be displayed based on the security set in Outlook.
It's displayed exactly as it's configured in Outlook, including detailed views and free time only.
You can also set a specific event to be confidential or not visible to others.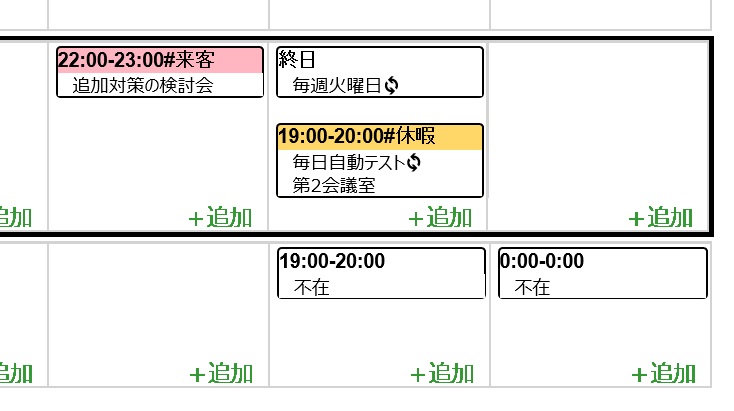 (Display only free time)
User Presence Information Display
You can check the presence of the user, so you can check who you can contact currently.
You can use it without Skype app installation in your local.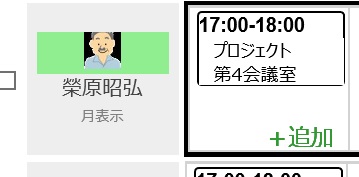 Notification Function
Notifications for individual or specific groups can be displayed on the calendar.
Check the Chedule Monthly, Week, and Daily. Mobile display is also possible.
Beside weekly display, monthly or daily schedule display also possible.
The display als compatible in smartphones and tablets.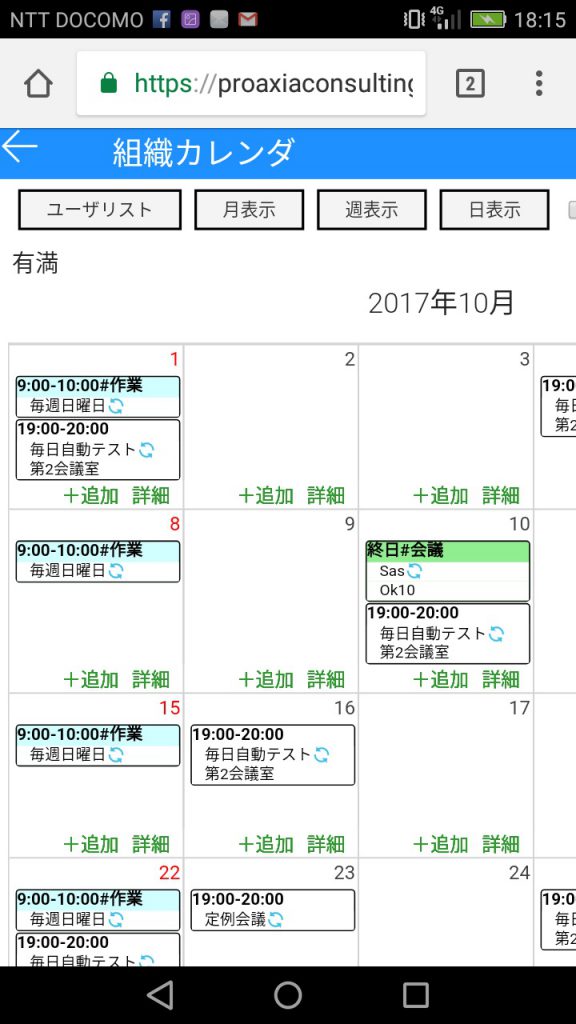 Price
FAQ
Q. Can it be used in an on-premises environment?
This application is only for Microsoft 365.
Q. Do I need a server other than Microsoft 365?
The organization calendar is SharePoint hosted and can be used without an additional server.
However, some functions may call the Microsoft Exchange Web Service and perform cross-domain processing.
For this reason, it is necessary to enable the IE cross-domain function or prepare a relay server in Azure etc. to enable CORS processing.
Since it is mainly used when updating schedules, it can also be used with the Azure Shared plan if it is less than 100 people.
For about 1,000 people we recommend the plan B1. If high availability and performance are required, the server capacity can be increased accordingly.
Azure App Service Pricing
Q. What kind of support will be provided?
Inquiries regarding initial settings and products during installation will be done by email.
It will be 6 months after purchase. In the case of a monthly contract, it will be during the contract period.
Q. Is there any web service version provided?
Currently under consideration. Please contact us for details.
Q. Is it possible for trial?
Please contact us for details.