We will solve the problems that occur in remote work by utilizing the functions of SharePoint Online and Teams.
By using the Web application to understand the user's presence status and monitor the work screen, you can immediately start using the client without installing a dedicated application.
※ Now we can only support Japanese edition.
Manage Content
Presence
Cumulative attendance time
Work screen (hard copy)
Message
Post presence and message to Teams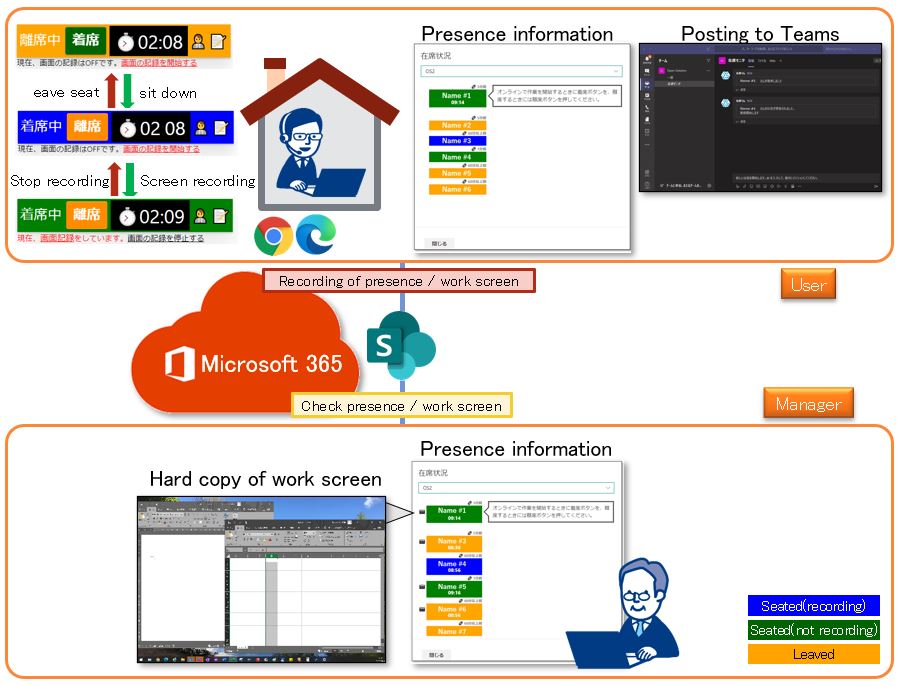 Use purpose
Presence monitor 365 is a development concept that considers the user side, and is not a product for forcibly collecting information, but a support tool for monitoring usage.
For this reason, updating the status of attendance and recording work screens are performed by user operations.
The scenarios for using Presence Monitor 365 are as follows.
Teachers and coaches monitor whether new employees are following the online video training or remote group training while they are at home
(Are there any employees who do not understand?)
Call center managers monitor each person's screen when they are working at home
(When both parties understand that they monitor the work screen in order to perform their duties normally)
When a student takes a remote lesson at home, the teacher will use it as an aid to see if everyone is following
Improve team collaboration by allowing people to sit and leave the Teams channel and post comments at the touch of a button while each team is working in the office or working in a remote remote environment
(Creating the feeling of working together)
Function Description
Record Content
Records the user's presence status (seated / away) to a list in SharePoint Online
Record hard copy of working screen regularly
(Desktop, application, browser tabs)
Records cumulative seating time
If you set up collaboration with Teams, you can post your presence status and message to Teams.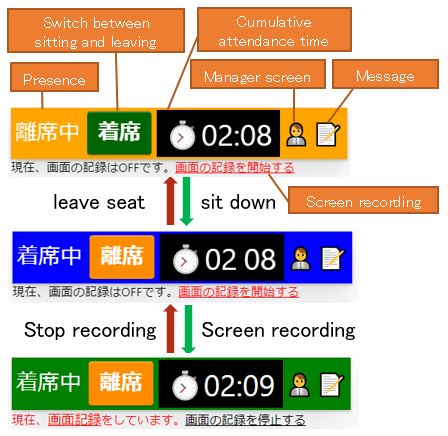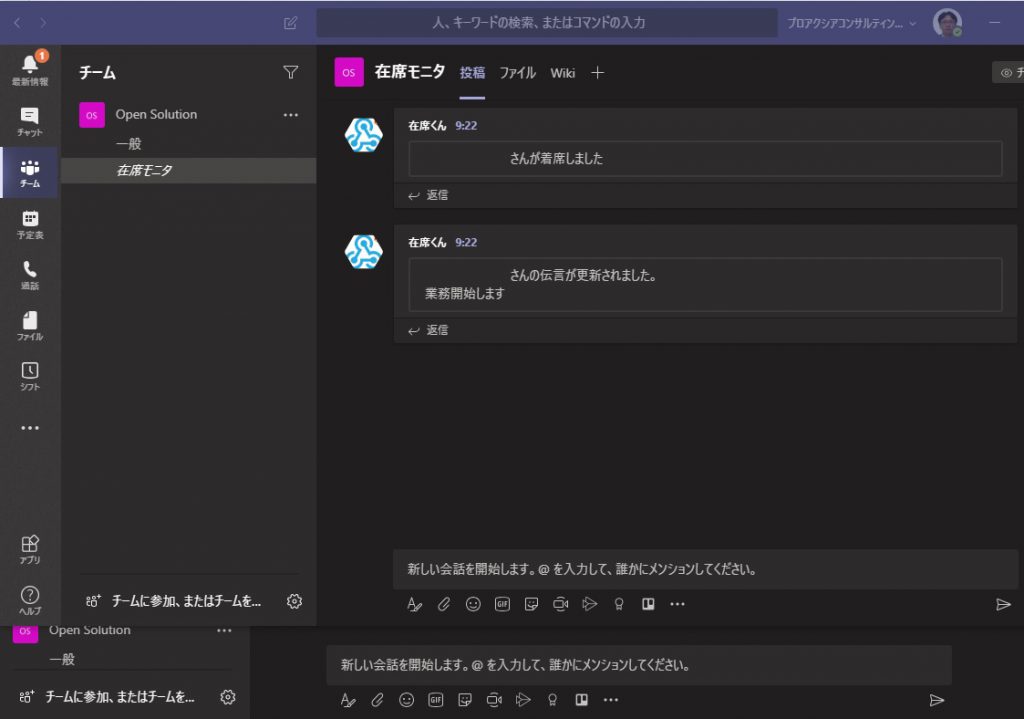 Presence Information (User)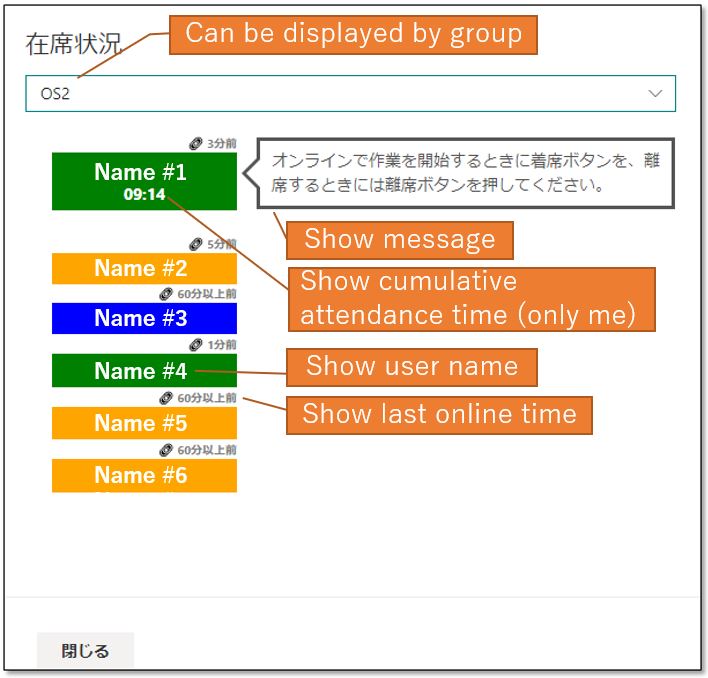 Users can check the presence status and messages of all
You can switch to each group and display it, so you can easily check the presence status
Since the last online time of each user is displayed, you can also know the away status
Cumulative attendance time is also displayed in your information
Timeline (User)
Users can check their presence status and recorded work screen details
You can edit your presence status and recorded work screen history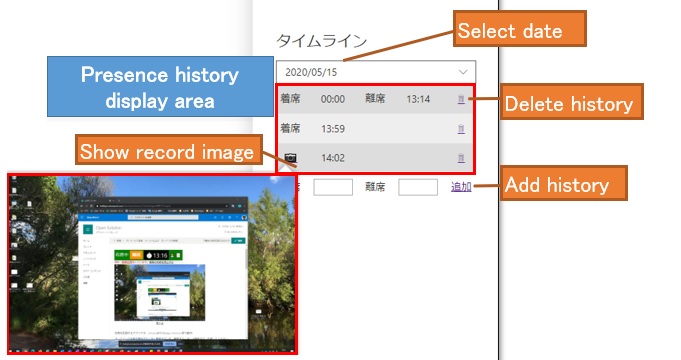 Presence Information (Manager)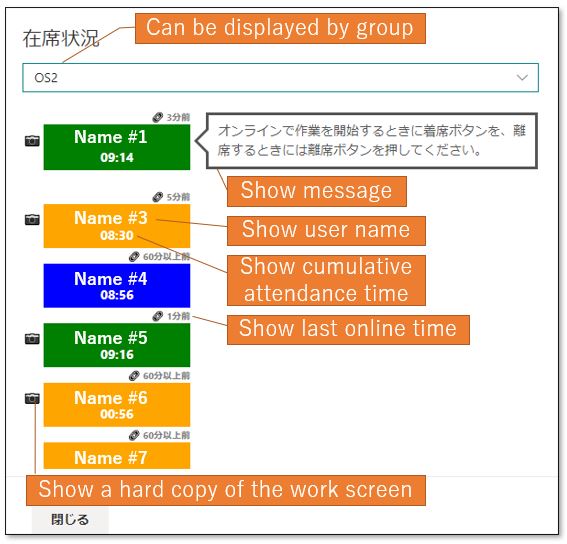 Manager can check everyone's presence and messages
Manager can switch to each group and display it, so you can easily check the presence status
The last online time of each user is also displayed, so manager can know the status of away
Manager can check the cumulative attendance time of each user
Manager can see the latest recorded working screen of the user who is performing the screen recording
Usage environment
An environment where you can use SharePoint Online and Teams with a Microsoft 365 contract
OS
Screen recording support: Windows 10, MacOS X
Screen recording not supported: iOS, Android
No need to install a dedicated application on the PC, and it can be used only by the target browser because it is realized by the function of the Web application
Screen recording support: Chrome, Edge (based on Chromium)
Screen recording not supported: Edge, Firefox, Safari
Not supported: Internet Explore
Security
The acquired information is stored on SharePoint Online, and the data is completely secure.
Since an environment can be built for each SharePoint Online site, it is also possible to manage target users separately