Low-coding / Non-coding development
Using PowerApps, which can be built with low-coding and non-coding applications, we will convert existing paper-based procedures and casual in-house operations that manage data using Excel files into applications.
As a result, not only we enjoy the merits of being paperless, data would also be available on the move through mobie devices, which leads to improvement in work efficiency and working style.
The following is an example of a travelling expenses application system created with the PowerApps canvas app.
Similarly, it can also be used for operations such as "equipment rental management", "inspection history management", "vacation application", and "visitor application".
The canvas app can be used from both mobile devices and PC Microsoft Teams, as such, data could be easily registered on the move.
The approver checks the list registered in SharePoint Online and performs the approval process.
Receipts could be taken as a photo with mobile camera and attached in the application.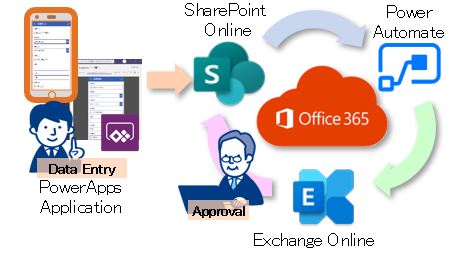 Workshop
We have prepared workshops for learning application development methods using PowerApps and Power Automate.
Title
Overview
Prerequisite skills
Price
PowerApps
Basic
(half day)
• Power Apps Overview
• Contract plan
• Overview of canvas apps / model-driven apps
• Development method with canvas app
• Functions used in the canvas app
• Control methods for various interfaces (camera, GPS, etc.) of mobile devices
• Power Automate overview
• Those who can perform basic operations of Windows and Office
• Basic knowledge of Microsoft 365
• Ability to perform basic OneDrive operations
¥200,000~
PowerApps
Advanced
(half day)
• Power Apps Overview
• Contract plan
• Overview of canvas apps / model-driven apps
• Development methods for model-driven apps
• Data linkage using Power Automate
(Common Data Service, SAP)
• Those who understand the basics of Power Apps
<Preferred skill>
• Web related (HTTP, JSON) knowledge
¥200,000~
Each training is limited to 5 people. Additional costs will be incurred if exceed 5 people.
Please prepare a meeting room for training. (Projector, whiteboard)
Please prepare your own PC for development during training.
Please prepare the PC environment to use Microsoft 365.
Browser requirements
Prepare a network environment that can connect to the Internet.
Please prepare your smartphone. (Android 5.0 or higher or iOS 9.3 or higher)
The standard practice environment is a hands-on training environment based on the trial version of Microsoft Microsoft 365.
[Option]
We also offer a video seminar and Q & A session (online) as a set.
The video content can be reused within the company where you purchased it. It can be used as an in-house educational material.
One hour's worth of online Q & A sessions are included in each video seminar. We will follow up on questions from people who attended the seminar.
If you need to hold an additional Q & A session, you can do so for a fee.
1 Day Business application development
Utilizing Microsoft's Power Platform, development of PowerApps canvas app running on mobile devices will be carried out together with customers in one day.
For business scenarios in which data in SharePoint Online or Excel files is accessed from a mobile device , the following system can be easily constructed.
You can easily systemize relatively simple tasks such as "equipment rental management", "inspection history management", "vacation application", and "visitor application", and which results in experiencing improvement of operational efficiency.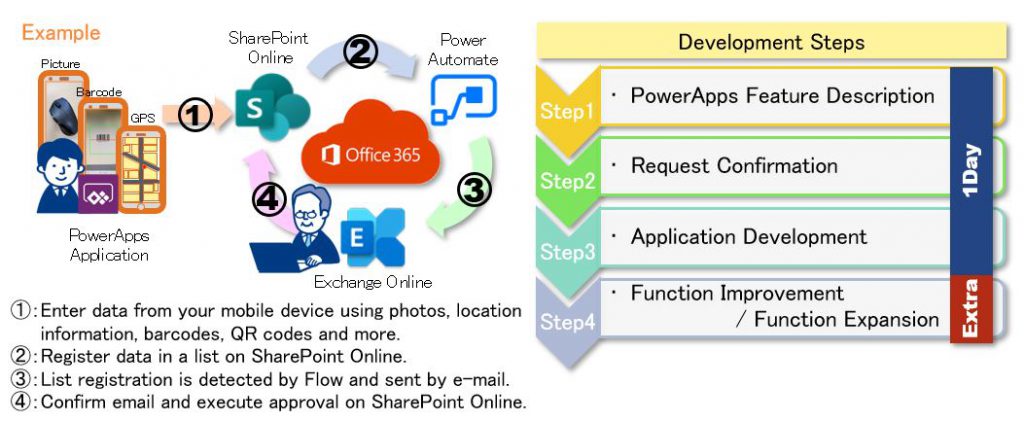 Power Apps Technology Lecture & Development Support
We will carry out business system development work using Power Apps together with our customers.
We will link the know-how of development work and infrastructure environment construction work. We aim to improve our customers' development technology by having them work.
We will proceed with development and environment construction work by organizing the work to be carried out each week and having the customer carry out the tasks.
As a guideline for the work period, we will develop on a scale that will be completed in about 6 to 8 weeks, and if there is an additional request, we will continue to carry out the development cycle.
| | |
| --- | --- |
| Week | Theme |
| Week 1 | Kick-off ・ Requirements definition |
| Week 2 | Function organization ・ Infrastructure construction |
| Week 3 | Data synchronization ・ Application development |
| Week 4 | Application development |
| Week 5 | Application development ・ Monitoring settings |
| Week 6 | Test |
| Week 7 | Release ・ Review |
Infrastructure environment construction support
Since Power Apps is provided as a cloud service, it is necessary to build an environment that can connect from the cloud when handling data from the created application.
If you want to use Microsoft Dataverse (CDS: Common Data Service) data stored in the cloud or data on SharePoint Online, it is easy to use the existing connection settings prepared by Power Apps. You can connect to.
When referencing a database in an intranet environment, it is necessary to deploy a data gateway server for relaying connections from the cloud. We will support you in the construction work of the data gateway server and the network configuration related to the communication used by the data gateway server.
It is also possible to configure multiple data gateway servers to support redundancy and build a load distribution configuration according to the importance of the system to be used and the amount of data.

SAP system linkage
The important data stored on SAP can be quickly accessed when needed, contributing to operational efficiency and speedup.
Applications developed with PowerApps can be used with mobile devices and Microsoft Teams as an interface, making it easy to access data on core systems.
Applications that directly access necessary data, such as checking the stock status of products and checking the sales status in real time could be easily developed.
It is possible to provide a quick application according to business needs, which helps to improve business efficiency.